Life at the Top
Here's a short tactical guide to achieve top local search rankings.
Why are top rankings so important? Because over 50% of traffic goes to the first three search results. 75% of traffic goes to results on the first page. If you're not on the first page, you're missing most of the opportunity to connect with customers.
I will outline what to do to rank in the top tier locally, but not how to do each step. With due respect, there are so many subtleties to doing the work, it doesn't make sense for most businesses to tackle it themselves. If you have the budget, hire an experienced local SEO professional to get most of this done quickly, the right way.
I'm a fan of outsourcing everything described in this post except written content simply because it's hard to find people that can step into the shoes of a service provider and create content from their point of view and experience. Expertise matters. Writers with long experience in your niche might be able to pull it off. But avoid generic content. No one wants fluff — weak content won't attract links, convert visitors, or rank well relative to authoritative sources.
And by the way, it's not enough to write the text. Who is handling media selection? And who is optimizing posts to help rank them in search? Without optimization, you won't see much benefit from the content.
Local Search Ranking Factors
What local ranking factors are important? Here they are (based on 2019 Moz data).
There are factors over which you have no control, some which you can influence, and others over which you have direct control.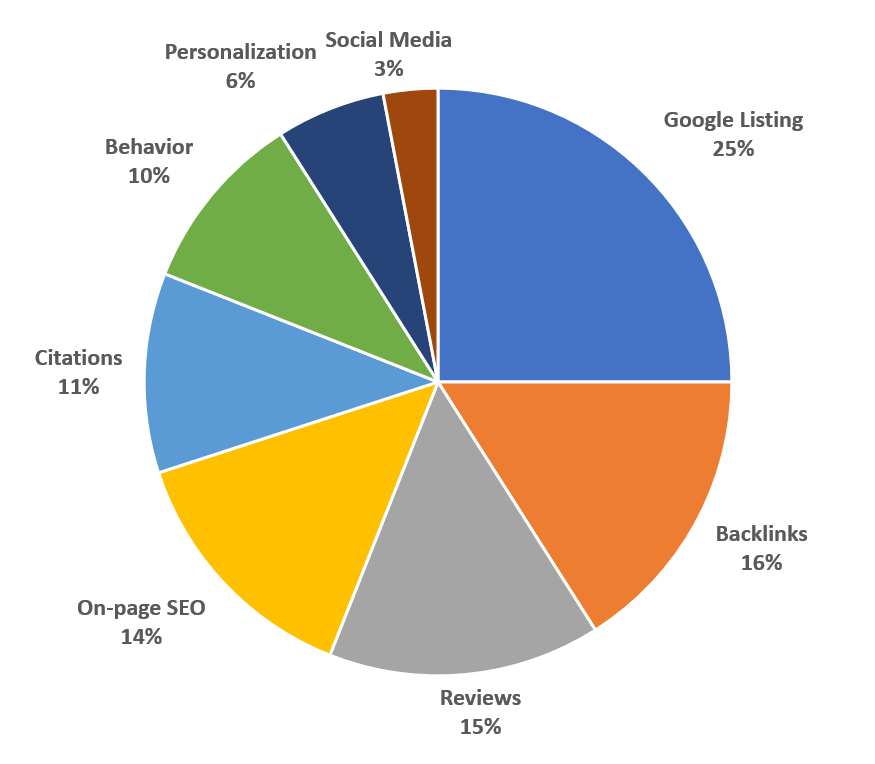 Factors You Cannot Control [Skip Entirely]
Proximity. A super-important factor that's not even mentioned in the Moz data . . . because there's nothing you can do about it except optimize the other factors (or add another location).  Proximity is the nearness between your location and the searcher's location. Search results may shift dramatically depending on the searchers's location.
If you're on the north end of town, and the searcher is on the south end, you better be sending a strong signal to search engines. How do you create a strong signal? By optimizing all the other factors here: Google listing, backlinks, reviews, etc.
Personalization. Google personalizes search results based on individual search patterns (unless the user opts-out). There's nothing you can do to shift how personalization changes your search ranking.
Factors You Can Influence [Save for Later]
Social Media. You can increase your social media activity to boost search visibility, but it's a weak correlation, and requires a large effort for little impact. Skip it until you have the more important signals dialed-in 100%.
User Behavior.  User activity includes click-throughs, click-to-call actions, etc.  User activity requires interaction with your search results or local business listing, and both of those depend on visibility. More activity = more visibility. You won't reap the benefits of the user activity signals until you maximize visibility. So work on the factors that you can control that lead to higher visibility first. After user activity signals kick in, they tend to cement your listing near the top of results, a very welcome and well-deserved outcome.
Factors You Can Control [Take Action Now]
Thankfully, there are important local search signals that you can directly control. Here they are, sorted from most to least influential:
Google My Business listing. The most important local ranking signal (excluding proximity). A mini-industry has sprung up to keep Google listings current and vibrant. See my tips to do it yourself.
Reviews.  One of my favorites, because reviews are not just a ranking signal, reviews are enormously important to conversions — turning visitors into a customers. You must have a review acquisition strategy in place. Integrate reviews into your business process. Acquire reviews on Google, Facebook, Yelp, and any vertical directories that apply to your niche. You can largely control reviews by providing good service, responding to all reviews, and calmly addressing complaints that occasionally pop up.
On-page SEO. Good news! This factor is totally under your control. On-page SEO means taking to time to optimize each post and page as well as making sure the structure of your website is optimal. Get some professional guidance to nail the subtleties of on-page SEO.
Citations. Easy! Citations are just mentions of your business information on various sites and directories. Citations should match your website and listing information exactly. Hire an SEO consultant to get these done for you. 50 good citations should be enough in most cases. Don't forget citations from contacts you already have: local clubs, sponsorships, events, etc.
Backlinks.  Backlinks (links from other websites that point to your website or listings) are the toughest signal to implement, which is why search engines assign them a lot of credibility. In theory, you could create content that is so awesome, people will spontaneously backlink to it. That's ideal, but it's also time-consuming and tough to pull off.
Alternatively, figure out what websites are linking to your key competitors (your local SEO consultant can tell you, or get a one week Ahrefs trial for $7), then go after those same backlinks.  If your local niche isn't super-competitive, that may be enough.
Don't forget to ask for backlinks from these local sources:
Distributors
Suppliers
Wholesalers
Neighboring businesses
Community Organizations
Sponsorships
See these posts: https://backlinko.com/hub/seo/backlinks,   https://www.matthewwoodward.co.uk/seo/link-building/crowdfunding/
Do You Need "Content"?
The same factors that affect traditional organic rankings affect your local pack rankings.
We've already touched on the importance of backlinks. But what about content — blog posts, videos, infographics, etc?
The need for content depends on your competitive environment. If you have just one or two local competitors, you might be able to get away with just minimal information about your business on your website.
But if you have more than a few competitors, or it would irk you to lose even one customer, then content is your friend. By creating content, you're explicitly telling Google what your business is all about and simultaneously attracting visitors in organic search results.
Since few competitors will have a decent content initiative going, you can break out of the pack by creating blog posts, Google listing posts, videos, and infographics that dovetail with known search activity. At the minimum, create content that highlights your services at each important geographic location in your market area.
Did you know that Google is perfectly happy for users to take action in search, without ever seeing your website? Seriously, they don't care. But to the extent people actually do visit your website, Google also wants to see signals that will help them satisfy searcher's needs:
How much time to visitors spend on your website (the "dwell time")
How deeply do visitors explore
Do visitors submit forms
Do  visitors click call buttons?
What percentage of visitors come back later?
All of these actions are supplemental ranking factors, and they largely depend on the quality of your content.  See https://backlinko.com/seo-content.
Checklist for Content Creation
How to approach content in a nutshell:
Understand your niche. How does your organization differ from others, and how is it positioned in the market? Do not overlook this step — it's crucial to everything that follows.
Hire a pro to do the keyword research, and to look into the long-tail questions that are being asked about your niche. Ahrefs is one of the best discovery tools.
Using Ahrefs or Google search, find out what competitor content is highly ranked for a particular keyword search.
Drawing on what competitors have done, create a resource that is more comprehensive and more authoritative than theirs. Integrate local terms too (the locations where you want to be found).
Don't forget Google listing posts. Create a short post for your listing and link it to your main website content.
Remember there are content creation shortcuts: audio transcription, re-writing existing posts, curating found posts, etc.
In short, start with what the market wants, then create content to match that intent. 
Check These Technical Issues
Make sure your website loads quickly (less than two seconds). Check it here: https://tools.keycdn.com/speed
Your website must be entirely usable on a phone; it's a mobile first world.
Add schema markup that explains your business information and services in terms search engines understand. Get your local SEO consultant to implement schema (it's tedious and not worth learning yourself).
Conclusion — Four Steps to Top Ranking
My advice to local organizations and businesses is to work through this guide, checking off each step as it's done.
To check rankings, don't fall into the trap of searching for one or two favorites keywords on Google. That's not a big enough sample, and you won't be getting a true picture versus your competitors. Instead, use a ranking tool to check multiple keywords. I typically check 50 – 100 keywords each week or each month.  Nightwatch works well.  If your business has competitors in each neighborhood, take a look at Local Falcon.
Start with the low-hanging fruit you can control: Google listing, reviews, on-page SEO, and citations.
Fix the basic technical issues: Make sure your website is fast, works perfectly on mobile devices, and has schema in place. Optimize any existing content.
Not ranking high enough? Add backlinks to at least match your competitors.
Need more juice? Start creating substantial content, including posts or pages that combine your service description with geographic locations. Content will support your local pack results and also boost organic results.
It will take time for these tactics to gel and work together. And of course, care must be taken to do things right. Do not give up. When everything comes together, you should find yourself in the top tier of local search results, enjoying a stream of new leads, without the burden of advertising costs.